Description
DRC | Cicli Corsa
KTC 380 | DRC
The DRC 380 is an extremely light clincher rim. Made in Italy with 6082 aluminum alloy, it weighs a mere 380 grams and is one of the lightest rims we offer.
The braking track has a groove running the length of the track for easy wear control.
Has a 22mm profile,  18.5mm external rim width, and a 13.5mm internal rim width.
It is available with 20-24-28 and 32 holes, with an anodized black finish.
Please Note: 
Rims for track and disc brakes are completely anodized black. Rims for traditional brakes have a silver braking surface.
Brief Company Outline
D.R.C. Srl was founded in 1992 in Lenate Sul Seveso located in the Monza Brianza province in Northern Italy. The company was founded with the aim to develop rims for bicycle wheels using the most technical means and advanced materials possible Their continuous dedication to research and development, the use of the most avant-guard alloys, and digital simulations have led the company to create incredible light and strong rims, quickly becoming one of the best manufacturers of bicycle components in Italy.
Technical Details
Rim Size: 28″ / 700c
ALLOY: 6082
TYPE: Clincher rim
E.T.R.T.O.: 622 x 13C
BRAKE WEAR INDEX : Yes
DRILLING: 20-24-28-32
FINISH: matt black anodizing
WEIGHT: 380gr
ERD: 593mm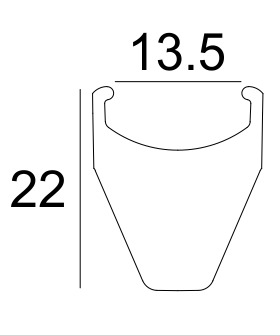 Terms and conditions
TERMS AND CONDITIONS
Payments are only accepted in EUR € currency.
Prices displayed will have VAT tax added where applicable. Customers located outside of the European Union are not subject to VAT.
It is possible to pre-order all items in our catalog that are currently out-of-stock. Delivery times automatically displayed on out-of-stock items by our online shop may differ slightly based on the articles selected and the information provided to Ciclicorsa.com at that time by suppliers.
Ciclicorsa.com offers a free return policy within 15 days of receiving the item. All products must be returned in the original packaging and with original labels. Items cannot be worn or used before returning. Any items that are returned without original packaging or labels, or is not in original condition will not be accepted.
Shipping on exchanged items is free of charge.
Every product sold by Ciclicorsa.com is covered by the manufacturer's warranty.
Estimated Delivery Times by Courier
Courier
DHL
UPS Standard
UPS Expedited
DPD - BRT
Poste Italiane - EMS
EUROPE
1-3 DAYS
1-5 DAYS
-
5-7 DAYS
2-5 DAYS
WORLDWIDE
3-5 DAYS
-
3-7 DAYS
-
5-7 DAYS
Shipping times do not include possible delays due to customs. We offer several shipping services available, with different rates and delivery times. During check-out you may select your preferred method of shipment.

Every shipment is fully covered by insurance (free of charge) against lost or damaged items. A tracking number will be provided with each shipment.
Reviews