Description
De Rosa 2021 | Cicli Corsa
De Rosa Neo Primato | Temperament of Times Past
The style and the inspiration look back to Eddy Merckx and I become almost mesmerized as I think about the racer's racer! I find myself doing the same thing as I look at the slim, historical yet elegant frame. Surely it looks more aggressive than other frames but it's really a matter of temperament as the performance is the same.
Certainly one feels the ride more than when riding other materials, but this is one of the joys and beauty of a steel bike; it requires a deeper degree of "oneness" with the bike and the ability to know it. Another great passion for me is to dance; riding the Neo Primato is like dancing Tango with a woman. For those who like rock'n'roll, there are other bikes!
Cicli Corsa is an official De Rosa distributor and as such is able to offer a completely customizable De Rosa bicycles and frames. We not only offer the standard factory builds for complete bicycles, we also offer free quotes for all Shimano and Campagnolo groupsets and accessories.
It is also possible to exclude items from your order. For example, you would love to buy a complete bicycle but already have a great wheelset that you want to continue using. Not a problem, we are able to provide a free quote for a complete bicycle minus the wheelset (or any other components).
Geometry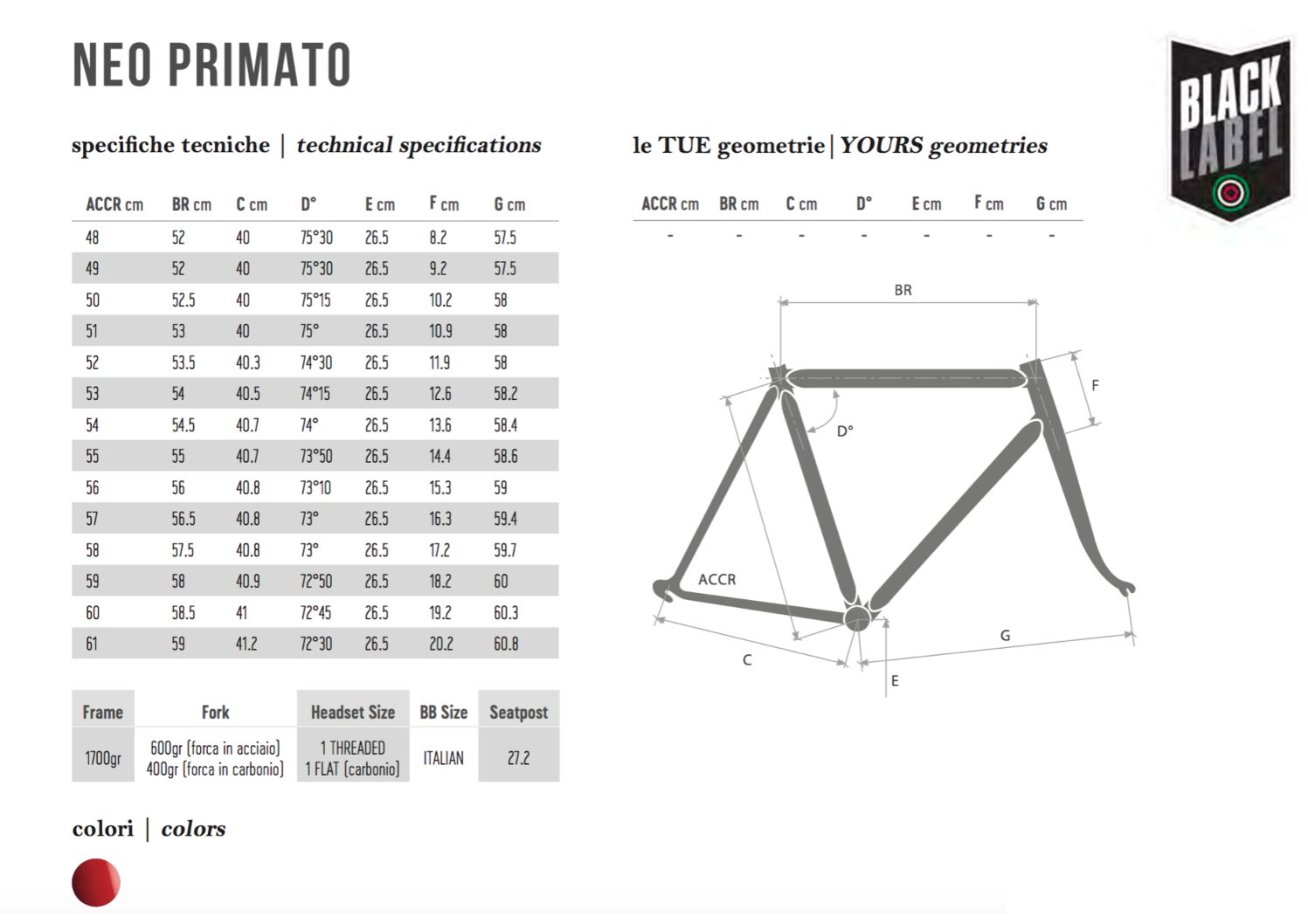 Terms and conditions
TERMS & CONDITIONS
Prices displayed will have VAT tax added where applicable. Customers located outside of the European Union are not subject to VAT.
Some frames may have variable delivery times. The exclusivity of these products means that their construction or finishing is done according to customer requirements and specifications following an order confirmation. In order to complete an order you do not have to pay the full cost, but it is sufficient to pay a deposit, usually equivalent to 30% of the full price. The 70% balance will be due only when the item is ready to be shipped.

Please note delivery times displayed automatically by the system may differ and we advise contacting us by email or phone in order to find out accurate information on availability.
Ciclicorsa.com is the official retailer of all brands on this website. Ciclicorsa.com maintains a privileged and direct relationship with the distributed brands without any third party involvement. This provides first-class service for our customers and extends to a complete after-sales service including warranty. Please contact us for any questions regarding the purchase of this product.

Estimated Delivery Times by Courier
Courier
DHL
UPS Standard
UPS Expedited
DPD - BRT
Poste Italiane - EMS
EUROPE
1-3 DAYS
1-5 DAYS
-
5-7 DAYS
2-5 DAYS
WORLDWIDE
3-5 DAYS
-
3-7 DAYS
-
5-7 DAYS
Shipping times do not include possible delays due to customs. We offer several shipping services available, with different rates and delivery times. During check-out you may select your preferred method of shipment.

Every shipment is fully covered by insurance (free of charge) against lost or damaged items. A tracking number will be provided with each shipment.
Reviews