Description
Colnago | Cicli Corsa
V2-R | Colnago
Colnago V2-R frameset from the year 2017-2018 is still available in size 42s with a very discounted price.
The frame will be supplied as standard with the Colnago seat post and two years warranty on the product.
Only the 42s size is still available, will be shipped in 4 – 5 working days.
The most advanced bike to leave Colnago's factory in Cambiago, the Colnago V2-R Road Bike is the ultimate in the pursuit of speed and strength. An entirely rigid monocoque carbon fibre, riding isn't just made easier, but more stylish than ever.
835 gram frame in a medium size
Lateral bottom bracket rigidity increased by 12%
4% stiffer headtube
Integrated seat clamp and internally routed cabling
Clearance for 28c tyres
Famed for their pursuit of perfection, Colnago has a reputation as one of the world's most successful road manufacturers, a fact due in no small part to this Italian brand's intricate approach to each and every detail. With their latest release, the Colnago V2-R Road Bike, this brand has gone further than ever to produce a bike that performs at the highest level, not just competing, but beating rivals out on the road.
Built around the all-new V2-R frameset, Colnago take pride in their full carbon fibre monocoque design, which, composed of a high modulus carbon fibre, assures you of astounding rigidity and stiffness as well as an imperious light net weight. A medium sized frame alone tipping the scale at just 855 grams, you can be sure that this machine is made for unbridled speed. Purposely engineered to provide greater lateral stiffness at every possible level, this frame boasts a 12% more rigid bottom bracket and a 4% stronger headtube over the previous V1-R model. This integral strength assuring you that all your power is transmitted through the frame, you can be sure of the most efficient possible frame construction.
Geometry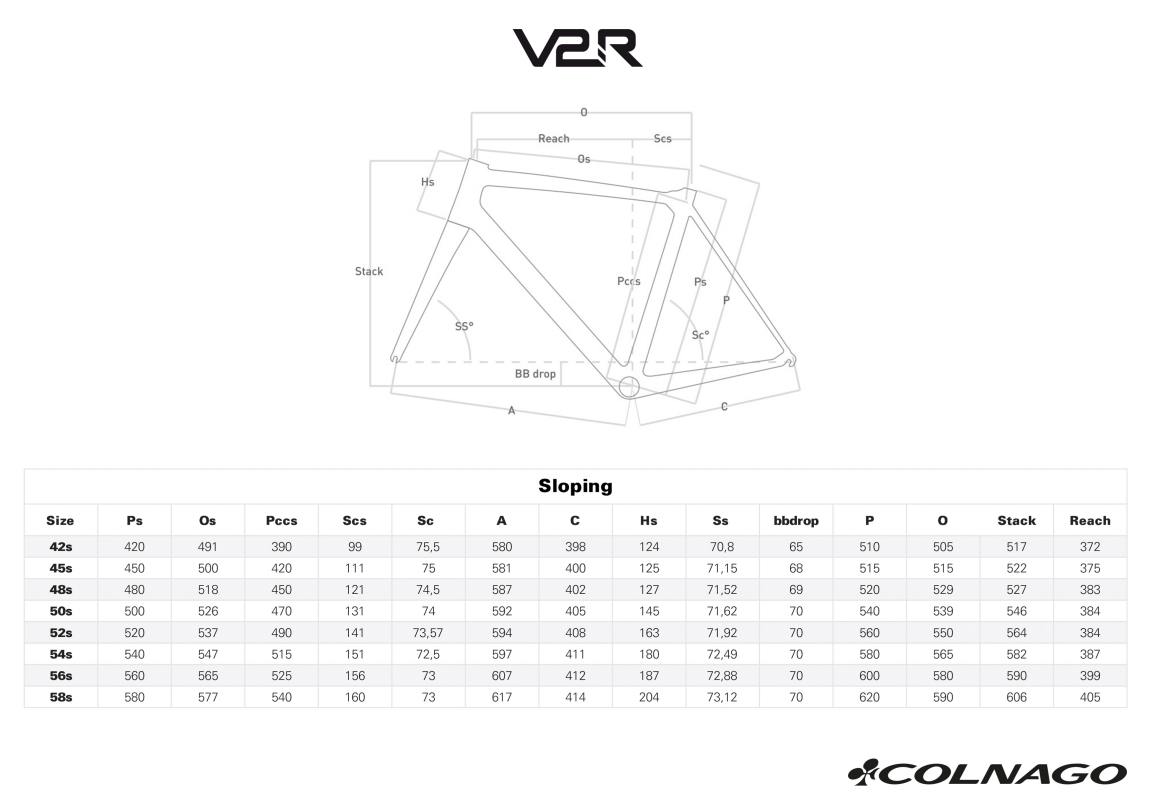 Terms and conditions
TERMS & CONDITIONS
Prices displayed will have VAT tax added where applicable. Customers located outside of the European Union are not subject to VAT.
Some frames may have variable delivery times. The exclusivity of these products means that their construction or finishing is done according to customer requirements and specifications following an order confirmation. In order to complete an order you do not have to pay the full cost, but it is sufficient to pay a deposit, usually equivalent to 30% of the full price. The 70% balance will be due only when the item is ready to be shipped.

Please note delivery times displayed automatically by the system may differ and we advise contacting us by email or phone in order to find out accurate information on availability.
Ciclicorsa.com is the official retailer of all brands on this website. Ciclicorsa.com maintains a privileged and direct relationship with the distributed brands without any third party involvement. This provides first-class service for our customers and extends to a complete after-sales service including warranty. Please contact us for any questions regarding the purchase of this product.

Estimated Delivery Times by Courier
Courier
DHL
UPS Standard
UPS Expedited
DPD - BRT
Poste Italiane - EMS
EUROPE
1-3 DAYS
1-5 DAYS
-
5-7 DAYS
2-5 DAYS
WORLDWIDE
3-5 DAYS
-
3-7 DAYS
-
5-7 DAYS
Shipping times do not include possible delays due to customs. We offer several shipping services available, with different rates and delivery times. During check-out you may select your preferred method of shipment.

Every shipment is fully covered by insurance (free of charge) against lost or damaged items. A tracking number will be provided with each shipment.
Reviews