Description
DE ROSA SK PININFARINA FRAMESET | OUTLET
Cicli Corsa offers its customers the opportunity to purchase this De Rosa SK Pininfarina frame kit at a discounted price. The measure still available is 54, here by clicking the Geometry button, you can check the specifications of the frame.
They are frames on display in the De Rosa store and have never been mounted, they could have very small scratches caused by the movement.
Size | 54
The frame is covered by a 2-year warranty and will be supplied with steering set and seat post.
If you are looking for a De Rosa frame or bicycle, which does not necessarily have to be the new collection, contact us directly at the phone number +39 035 0744805 or by writing an email to info@ciclicorsa.com so you can check the offers active on frames or bicycles.
De Rosa SK Pininfarina | Design
Challenge conquests. But similarities unite. Like all the best love stories, De Rosa and Pininfarina came together through shared values: born from family craftsmanship, the passion for innovation, the continuous search for high-performance, artisanship and attention to detail, and an everlasting adoration of design and beauty. A unison of values that brought to life a lightweight, aerodynamic bicycle with svelte lines and technological perfection.
The De Rosa SK Pininfarina frame kit is an original project made in collaboration with the independent Italian car design firm, Pininfarina, the SK marries De Rosa's technological perfection with Pininfarina's elegant forms.
An aerodynamic carbon fibre road bicycle with an perfect balance of rigidity, stability, comfort and style.  Perfect for those who need a high-performance racing bicycle. Suitable for triathlon.
For over 60 years, De Rosa has pushed the boundaries of road racing technology, not to mention sophistication. Their continuous drive to research, develop, and adopt avant-garde solutions has made them one of the most well-known and appreciated Italian brands the world over.
Geometry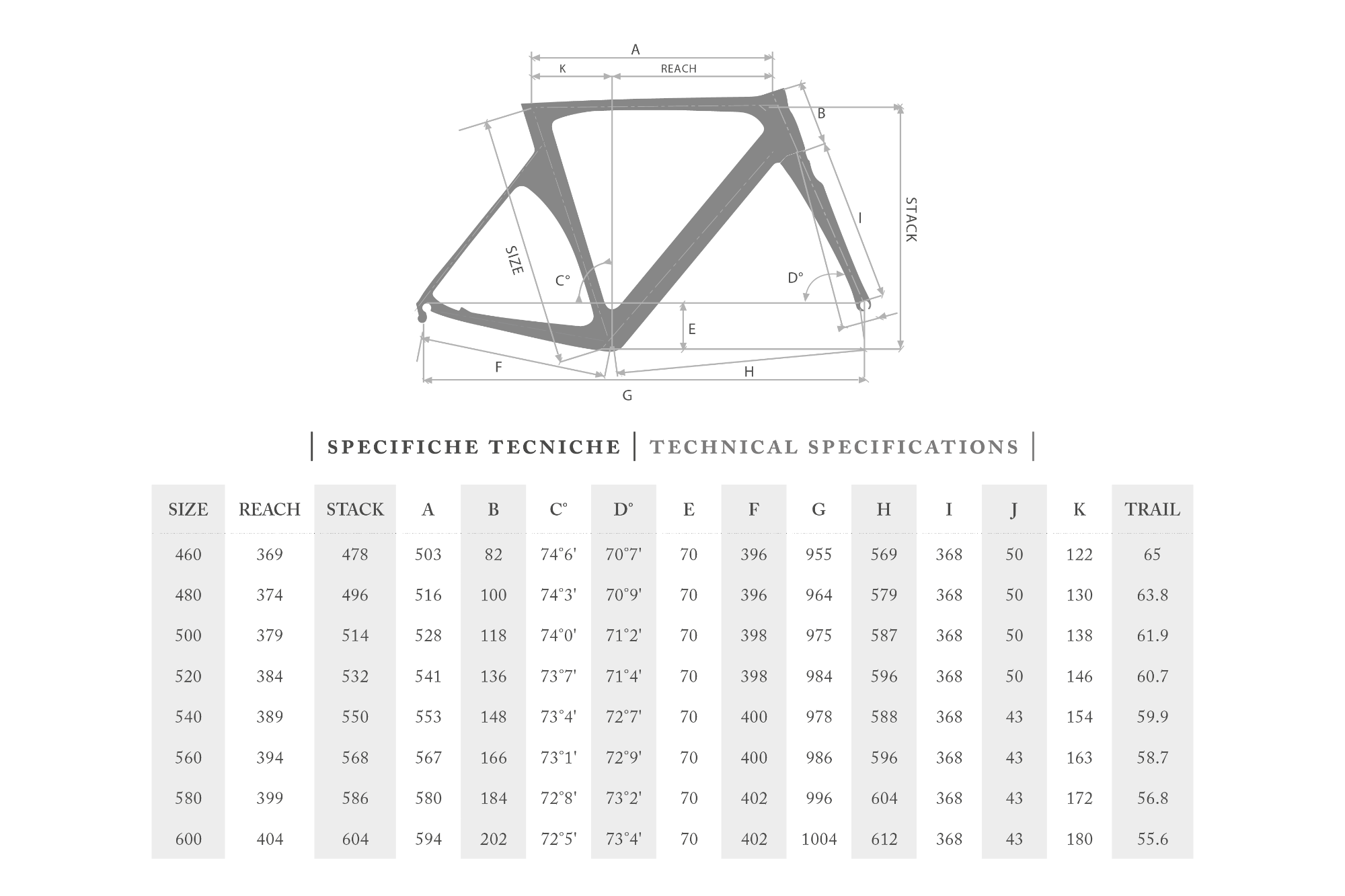 Terms and conditions
TERMS & CONDITIONS
Prices displayed will have VAT tax added where applicable. Customers located outside of the European Union are not subject to VAT.
Some frames may have variable delivery times. The exclusivity of these products means that their construction or finishing is done according to customer requirements and specifications following an order confirmation. In order to complete an order you do not have to pay the full cost, but it is sufficient to pay a deposit, usually equivalent to 30% of the full price. The 70% balance will be due only when the item is ready to be shipped.

Please note delivery times displayed automatically by the system may differ and we advise contacting us by email or phone in order to find out accurate information on availability.
Ciclicorsa.com is the official retailer of all brands on this website. Ciclicorsa.com maintains a privileged and direct relationship with the distributed brands without any third party involvement. This provides first-class service for our customers and extends to a complete after-sales service including warranty. Please contact us for any questions regarding the purchase of this product.

Estimated Delivery Times by Courier
Courier
DHL
UPS Standard
UPS Expedited
DPD - BRT
Poste Italiane - EMS
EUROPE
1-3 DAYS
1-5 DAYS
-
5-7 DAYS
2-5 DAYS
WORLDWIDE
3-5 DAYS
-
3-7 DAYS
-
5-7 DAYS
Shipping times do not include possible delays due to customs. We offer several shipping services available, with different rates and delivery times. During check-out you may select your preferred method of shipment.

Every shipment is fully covered by insurance (free of charge) against lost or damaged items. A tracking number will be provided with each shipment.
Reviews