Description
Ambrosio | Cicli Corsa
Excellence Clincher Rim | Cicli Corsa
The Ambrosio Excellence Clincher Rim shares a similar profile with the iconic Nemesis, but designed in a clincher format. The box-section design has an internal rim width of 13mm, an outer width of 18.5mm, and a depth of 18mm.
This profile, paired with a generous 32-hole pattern, yields the comfortable and exceptionally durable attributes known and loved by many cyclists around the globe. The rim also has a machined sidewalls for consistent braking and Ambrosio's VSL treatment, which is a track in the sidewall that serves as a visual wear indicator.
Like the Nemesis, the Excellence has a smooth finish and the unmistakable gold counter weight at the valve. Additionally, the double eyelets on the spoke holes add to both the aesthetics and overall durability.
The Ambrosio Excellence Rim is available in a 700c/32-hole or 36-hole configuration. Each rim comes in at roughly 460g, and Ambrosio has placed a 220lb rider weight limit on this model.
Cicli Corsa offers a wheel-building service, if you would like to lace these rims to one of the hubs available in our catalog, feel free to send us an enquiry and we'd be happy to provide you with a custom-laced set of wheels.
Technical details
Excellence Rims Characteristics
Rim Diameter
28"
Weight
460 g
Material
AW 6082 T6
Diameter
622x13 mm
Internal Rim Width
13 mm
ERD
601 mm
Drillings
28 / 32
Finish
Black
Jointed Sleeve
Glued
Brake Interface
V-brake
Eyelets
Double
Type of Rim
Clincher
Rim Section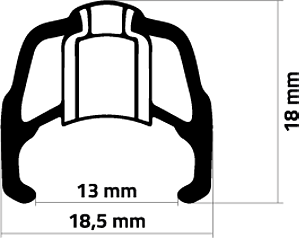 Terms and conditions
All "Ambrosio" products are available in pre-order. Delivery time is confirmed with every order and indicated on each product page. If products require longer delivery times it will be indicated in the order and is based on the information provided to us by Ambrosio.
TERMS AND CONDITIONS
Payments are only accepted in EUR € currency.
Prices displayed will have VAT tax added where applicable. Customers located outside of the European Union are not subject to VAT.
It is possible to pre-order all items in our catalog that are currently out-of-stock. Delivery times automatically displayed on out-of-stock items by our online shop may differ slightly based on the articles selected and the information provided to Ciclicorsa.com at that time by suppliers.
Ciclicorsa.com offers a free return policy within 15 days of receiving the item. All products must be returned in the original packaging and with original labels. Items cannot be worn or used before returning. Any items that are returned without original packaging or labels, or is not in original condition will not be accepted.
Shipping on exchanged items is free of charge.
Every product sold by Ciclicorsa.com is covered by the manufacturer's warranty.
Estimated Delivery Times by Courier
Courier
DHL
UPS Standard
UPS Expedited
DPD - BRT
Poste Italiane - EMS
EUROPE
1-3 DAYS
1-5 DAYS
-
5-7 DAYS
2-5 DAYS
WORLDWIDE
3-5 DAYS
-
3-7 DAYS
-
5-7 DAYS
Shipping times do not include possible delays due to customs. We offer several shipping services available, with different rates and delivery times. During check-out you may select your preferred method of shipment.

Every shipment is fully covered by insurance (free of charge) against lost or damaged items. A tracking number will be provided with each shipment.
Reviews