Description
Caffélatex ZOT! Nano is an instant polymerization catalyst for Caffélatex, useful in case of relevant tyre damages: for punctures up to 10 mm in size (well above the capacity of any liquid sealant).
EXCLUSIVE FEATURES:
polymerization catalyst for Caffélatex
allows repairing of big punctures (up to 10 mm)
works also for tubulars thanks to needle tip
CHARACTERISTICS:
How it works:
Caffélatex ZOT! Nano is an instant polymerization catalyst for Caffélatex, useful in case of relevant tyre damages.
When the damage size exceeds the maximum sealable by normal tyre sealants (around 5 mm) and Caffélatex sealant escapes the hole without repairing it, ZOT! can be injected through the damage: the catalyzed Caffélatex will then be able to repair damages up to 10 mm (well above the capacity of any liquid sealant).
ZOT! Nano hosted inside its clip
Effective packaging:
Caffélatex ZOT! Nano 10 ml is the road – XC racer version of our original ZOT! 30 ml (discontinued).
This Caffélatex-specific catalyst is contained inside a small, squeezable 10 ml bottle ending with a 1 cm-long x 1 mm-diameter metal needle. Thanks to this needle, ZOT! activates Caffélatex (or Espresso) with surgical precision even on sensitive high-pressure tyres and tubulars.
Forget it on the bike, until you need it:
ZOT! fits under the bottle cage with the provided specific clip. It can be easily opened/re-sealaed with a practical silicone plug. The small size and reduced weight make it good also for weight conscious cyclists.
Localised action:
the metal needle allows precise injection of ZOT! inside smaller punctures. ZOT!, engineered to specifically work with Caffélatex sealant formula, solidifies Caffélatex locally, without reducing the sealant's normal lifespan inside the tyre. One bottle of ZOT! is enough for 2 to 5 times.
How to Use
How to Use:
– Caffélatex has to be liquid inside the tyre when the puncture occurs (ZOT! by itself has no sealing properties, it simply accelerates Caffélatex solidification).
– While ZOT! + Caffélatex can also work on tyre and inner tube setups, tubeless or tubeless-converted tyres are the easiest to work with.
– Among tubulars, those with a tubular-tubeless construction (where the inner tube is integrated in the casing) offer an higher chance of success.
– Inserting the tip of ZOT! bottle and squeezing it inside the tyre damage will instantly solidify Caffélatex, sealing holes.
IMPORTANT: simply pouring ZOT! on the outside of the tyre, won't fix major damages. For maximum results, insert ZOT! bottle needle through the hole and inside the casing (to create a physical plug of solid Caffélatex inside the tyre).
iCaffélatex App
iCaffélatex
To calculate the correct quantity of Caffélatex to use, click on the image below to download the app for Android or iOs: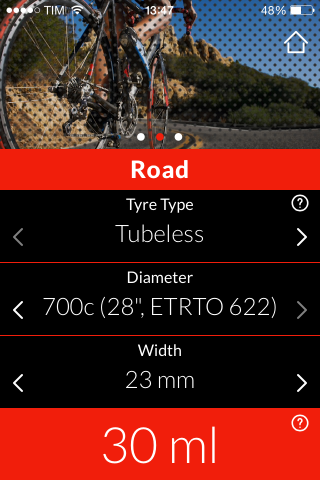 Terms and conditions
All "Effetto Mariposa" products are generally in stock with orders completed within 1-2 business days. If products require longer delivery times it will be indicated in the order and is based on the information provided to us by Effetto Mariposa.
TERMS AND CONDITIONS
Payments are only accepted in EUR € currency.
Prices displayed will have VAT tax added where applicable. Customers located outside of the European Union are not subject to VAT.
It is possible to pre-order all items in our catalog that are currently out-of-stock. Delivery times automatically displayed on out-of-stock items by our online shop may differ slightly based on the articles selected and the information provided to Ciclicorsa.com at that time by suppliers.
Ciclicorsa.com offers a free return policy within 15 days of receiving the item. All products must be returned in the original packaging and with original labels. Items cannot be worn or used before returning. Any items that are returned without original packaging or labels, or is not in original condition will not be accepted.
Shipping on exchanged items is free of charge.
Every product sold by Ciclicorsa.com is covered by the manufacturer's warranty.
Estimated Delivery Times by Courier
Courier
DHL
UPS Standard
UPS Expedited
DPD - BRT
Poste Italiane - EMS
EUROPE
1-3 DAYS
1-5 DAYS
-
5-7 DAYS
2-5 DAYS
WORLDWIDE
3-5 DAYS
-
3-7 DAYS
-
5-7 DAYS
Shipping times do not include possible delays due to customs. We offer several shipping services available, with different rates and delivery times. During check-out you may select your preferred method of shipment.

Every shipment is fully covered by insurance (free of charge) against lost or damaged items. A tracking number will be provided with each shipment.
Reviews