Columbus | Cicli Corsa
CENTO | Columbus
The Soul of Cycling since 1919
A hundred years ago, in a post-bellic Milano, the journey of Columbus moved the first step of its long road. Seaplanes, motorcycles, racing-cars, rational furniture and cycling are just few of the fields where the company ambitions have been competing over the decades. It could be somehow challenging to tell which is connection that seams all these applications together.
Actually, world's most mysterious and powerful feelings are often hard to explain.
After "cento" years of our lifes lived fast forward in the same direction, we feel we've found the answers. Curiosity, attitude and passion for the innovation. The humble and exciting idea of making something faster, lighter, more functional. And exciting. Brands are made by people which are driven by visions.
That's why we talk about "Soul" when we look at Columbus tubes, Eddy's breackaways, at Balbo's expeditions, at Enzo's cars and Breuer's chairs.
To celebrate this spirit, we decided to match the most iconic specifications of cycling evolution, together to the most updated trends, materials and technologies.
CENTO is the tubeset that embodies this hundred-years adventure, as the sincere storytelling of an heritage, the wind on the eyes of the road ahead.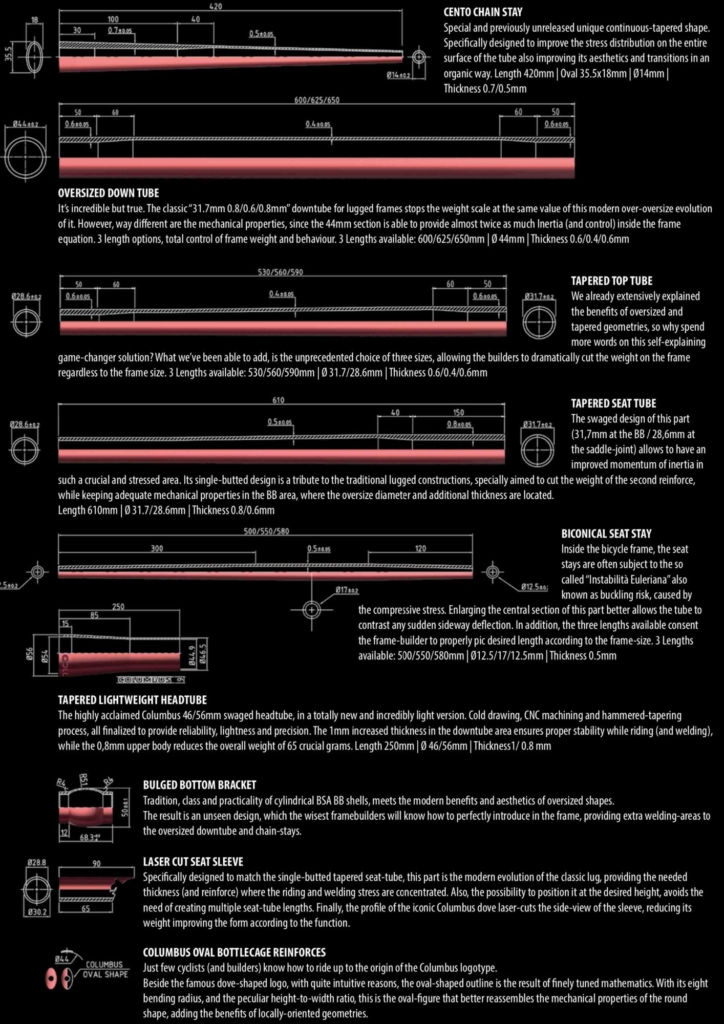 OMNICROM is the culmination of a long journey, began more than 30 years ago, started with the collaboration of Columbus with the Institute de Soudure de Paris.
It all starts with the latest low-carbon Chromium-Molybdenum Steel alloys used today in the aerospace industry matched with the benefits of Vanadium and a highly controlled alloy composition.
OMNICROM alloy is refined and refuse, without any inclusion, with a highly controlled crystalline structure that ensures unprecedented welding experience, with a smooth and predictable behaviour.
Moreover, the centenarian experience of Columbus in the cold-drawing plastic transformation, is able to furtherly improve OMNICROM's impressive mechanical properties, with increased yield strength and resilience, for an enhanced and long lasting riding experience.
Mechanical characteristics: UTS=1300MPa, Ys≥920 MPa, Ap5>15%
Suggested material for TIG welding: OK TIGROD 13.12 (AWS 5.28 ER 80S-G)
Suggested material for brazing: Castoline Silver Alloy 38230