Description
DE ROSA 2021 | CICLI CORSA
DE ROSA MERAK | RACING
The MERAK is a true racing bike which combines light weight and performance. With its routes back in 2000 winning the World Championships the MERAK is the lightest frame in the De Rosa range — ideal to hunt for personal bests.
Lightness: 800 g frame weight

Integrated Wiring: Wiring is completely inside the steering tube and the frame
The 1 1/2″ combined with the compact wheelbase gives a very responsive and reactive ride ready for your next challenge. The BB86 Bottom Bracket, assymetric chain stays and the oversized downtube guarantee optimal power transfer. The De Rosa MERAK is the ideal bike to push limits.
The dropped seat stays, tires with up to 28 mm width in combination with the De Rosa Aero Seat post will add the required comfort to your next challenge.
The 2020 Merak comes with flat mount disc mounts and fully internal cable routing for a clean look of the bike.
Technical comment by Danilo De Rosa:
"Merak is the new De Rosa top-of-the-range for performance, that today naturally matches with the Protos model but with great differences in terms of weight, being definitely lighter (the polished frame weights 800 g). Merak is the perfect bicycle for who want to ride uphill, in plain or downhill, for who want to run a Granfondo at really high level, for who want to run a Giro d'Italia or for who want to do high quality bicycle tourism."
Technical Details
Frame: Carbon (65% High-Modulus T800, 25% High-Modulus M46JB, 5% Ultra-High-Strength Woven Carbon, 5% High Impact 3K Woven Carbon)
Fork: De Rosa Carbon Disc
Fork Axle: 12mm Thru x 100mm
Head Tube: 1″1/2 – 1″1/2 ACR System
Headset Included: Yes
Bottom Bracket Type: BB86 Press Fit (86,5×41)
Cable Routing: Internal, mechanical or electronic compatible
Front Derailleur Mount: Braze-on
Brake Type: Disc, flat mount
Seatpost: De Rosa Carbon Aero Seatpost
Rear Axle: 12mm Thru x 142mm
Sizes: 43cm | 46cm | 48cm | 50cm | 52cm | 54cm | 56cm | 58cm
Colors: 6 Catalog Colours + Personalisation
Frame Weight: 800 g
Geometry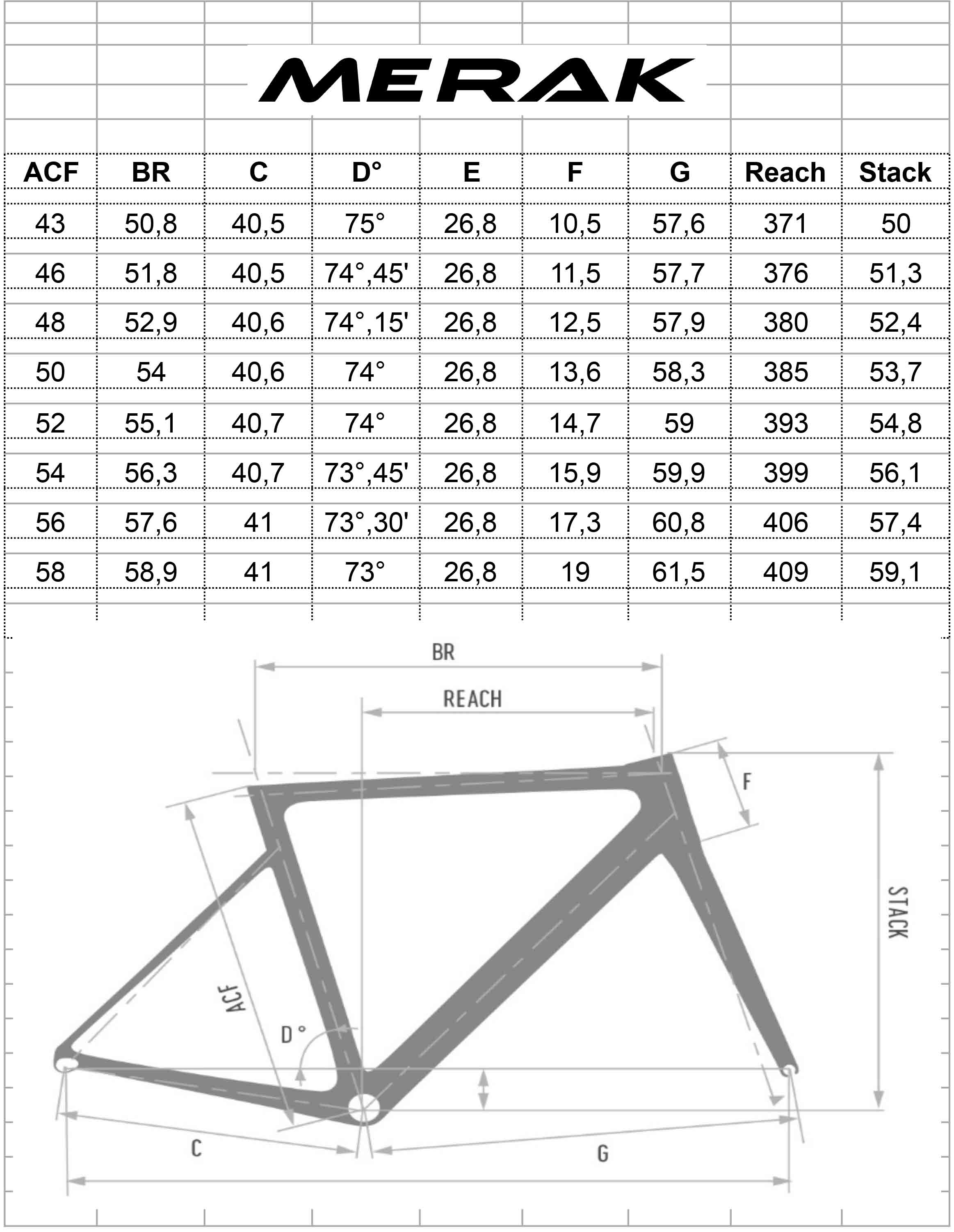 Terms and conditions
TERMS & CONDITIONS
Prices displayed will have VAT tax added where applicable. Customers located outside of the European Union are not subject to VAT.
Some frames may have variable delivery times. The exclusivity of these products means that their construction or finishing is done according to customer requirements and specifications following an order confirmation. In order to complete an order you do not have to pay the full cost, but it is sufficient to pay a deposit, usually equivalent to 30% of the full price. The 70% balance will be due only when the item is ready to be shipped.

Please note delivery times displayed automatically by the system may differ and we advise contacting us by email or phone in order to find out accurate information on availability.
Ciclicorsa.com is the official retailer of all brands on this website. Ciclicorsa.com maintains a privileged and direct relationship with the distributed brands without any third party involvement. This provides first-class service for our customers and extends to a complete after-sales service including warranty. Please contact us for any questions regarding the purchase of this product.

Estimated Delivery Times by Courier
Courier
DHL
UPS Standard
UPS Expedited
DPD - BRT
Poste Italiane - EMS
EUROPE
1-3 DAYS
1-5 DAYS
-
5-7 DAYS
2-5 DAYS
WORLDWIDE
3-5 DAYS
-
3-7 DAYS
-
5-7 DAYS
Shipping times do not include possible delays due to customs. We offer several shipping services available, with different rates and delivery times. During check-out you may select your preferred method of shipment.

Every shipment is fully covered by insurance (free of charge) against lost or damaged items. A tracking number will be provided with each shipment.
Reviews