Description
Miss Grape | Cicli Corsa
Internode | Miss Grape
Miss Grape Internode has a large and extremely durable chassis. It's not only suited for long journeys, but also ideal for day trips and commuting.
Available in three sizes to fit most bikes, from road to MTB. The bag sits inside the triangle of the frame with a series of velcro straps.
This choice makes the product more versatile, allowing the velcro straps to be positioned at its ideal point in order to keep the bag open to its full load volume even if it is fixed to narrow tube diameters. The velcro straps can also be replaced once worn out.
Small padding prevents the contents from damaging the frame in some way. A small slot also allows the passage of a cable to make our Internode the ideal place to place the battery of the light plant.
The tear-off fabric has excellent rain resistance thanks to the internal coating of 10,000 columns of water.
The fabric is highly water resistant and durable.
All Miss Grape products are made in Italy and are certified according to Reach CE no. 1097/2006.
Dimensions:
Internode 40.6: A 44 cm – B 10 cm – C 29 cm– D 2 cm – volume 3 litres – Weight 184 g;
Internode 46.2: A 49 cm – B 12 cm – C 35 cm – D 3 cm – volume 4 litres – Weight 227 g;
Internode 50.6: A 52 cm – B 14 cm – C 37 cm – D 4 cm – volume 5,5 litres – Weight 249 g;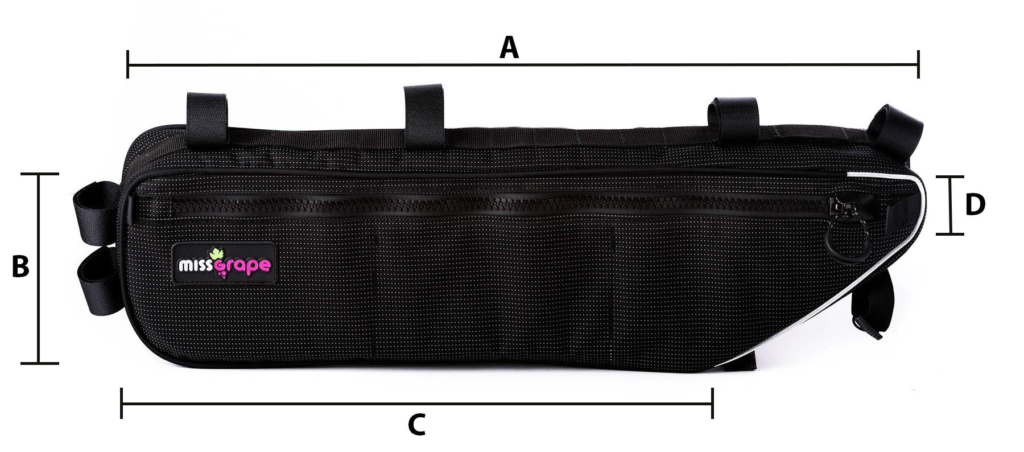 About the brand
The newest concept of bags and accessories focus on optimizing space, size and compatibility with any frame and Miss Grape, an Italian brand from Rovigo, produces handmade products of the highest quality. The best materials and fabrics make Miss Grape bags highly water resistant and durable.
Terms and conditions
TERMS AND CONDITIONS
Payments are only accepted in EUR € currency.
Prices displayed will have VAT tax added where applicable. Customers located outside of the European Union are not subject to VAT.
It is possible to pre-order all items in our catalog that are currently out-of-stock. Delivery times automatically displayed on out-of-stock items by our online shop may differ slightly based on the articles selected and the information provided to Ciclicorsa.com at that time by suppliers.
Ciclicorsa.com offers a free return policy within 15 days of receiving the item. All products must be returned in the original packaging and with original labels. Items cannot be worn or used before returning. Any items that are returned without original packaging or labels, or is not in original condition will not be accepted.
Shipping on exchanged items is free of charge.
Every product sold by Ciclicorsa.com is covered by the manufacturer's warranty.
Estimated Delivery Times by Courier
Courier
DHL
UPS Standard
UPS Expedited
DPD - BRT
Poste Italiane - EMS
EUROPE
1-3 DAYS
1-5 DAYS
-
5-7 DAYS
2-5 DAYS
WORLDWIDE
3-5 DAYS
-
3-7 DAYS
-
5-7 DAYS
Shipping times do not include possible delays due to customs. We offer several shipping services available, with different rates and delivery times. During check-out you may select your preferred method of shipment.

Every shipment is fully covered by insurance (free of charge) against lost or damaged items. A tracking number will be provided with each shipment.
Reviews