Favero Assioma Power Meter Pedals
Breakthrough technology applied to cycling, to make your training more efficient and effective than ever. Set your targets with ultraprecise and reliable watt measurements. Hard facts, not estimates, to make the most of each pedal stroke.
Assioma power sensors are placed on the pedals, exactly where your force is applied, to provide you with a more detailed and accurate observation of your pedal strokes.
Easy to install.
Rechargeable.
Smart.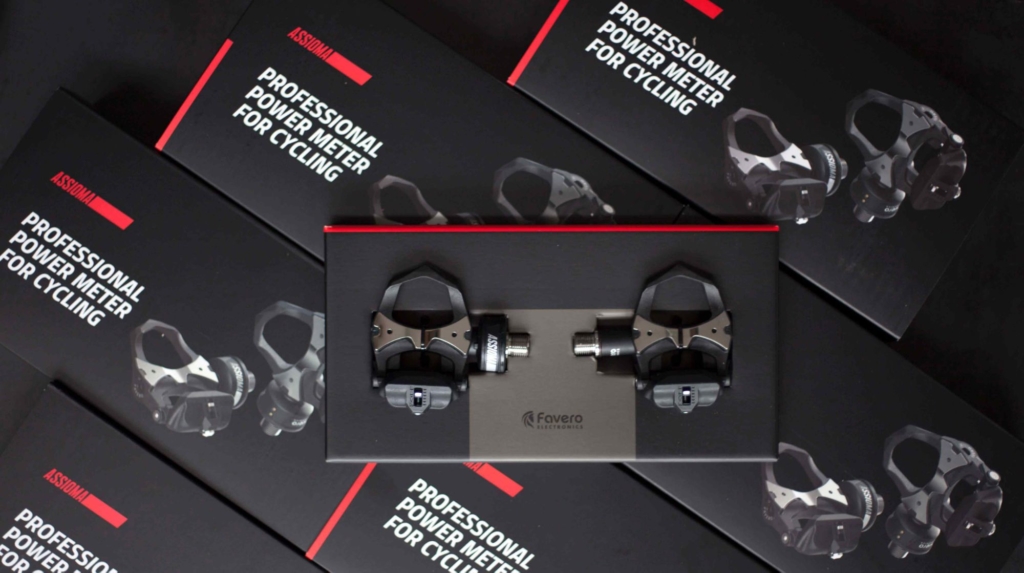 Fast to move between bikes
Install and move your Assioma power meter pedals from one bike to another just like a normal pedal, easily and without special tools. Use the Favero Assioma App and pair it with your bike computer or smartphone instantly via Bluetooth and ANT+.
Favero Assioma Uno and Favero Assioma Duo
are the lightest and most compact pedal-based power meters.
Bluetooth and ANT+ Compatible.
The only one with IAV Power system
Many power meters calculate power using the average angular velocity (AVG) per rotation instead of the instantaneous angular velocity (REAL) value: this may introduce an additional error, up to 4.5% compared to the declared accuracy. Assioma, thanks to its exclusive IAV Power system and an integrated gyroscope, measures the actual instantaneous angular velocity to guarantee the same ±1% degree of accuracy with any style of pedaling, even with oval chainrings.
Automatic Temperature Compensation
Rain, snow, mud, or sweltering heat: automatic temperature compensation (ATC) ensures exact, consistent watt measurements in any weather condition at temperatures between -10°C and 60°C.
Waterproof, resistant and the lightest ever made
The lightest and most compact pedal-based power meter: with no protruding elements, it does not interfere with the pedalling. Not even when cornering. Protected by a bi-component resin block, the power meter sensor is extremely resistant to shocks and fully waterproof.
No waste of energy or time
Rechargeable batteries
The lithium-ion technology provides a long battery life: up to 50 hrs with a single charge. Automatic stand-by After a few minutes of inactivity, Assioma automatically sets to stand-by and instantly switches on as soon as you start pedaling. Magnetic connectors You can recharge your cycling power meters simultaneously thanks to the battery charger with double USB cable and magnetic connectors.

With the Assioma App
and just your thumb, you can…
Activate Assioma.
Update the firmware.
Calibrate the sensors.
Set the crank-arm length.
Check the battery charge level.
Set the "Travel mode".
Extend the compatibility with other apps.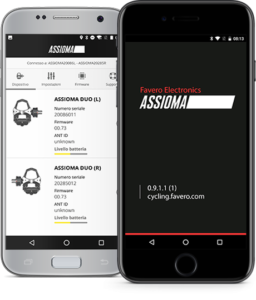 Extreme compatibility
With Bluetooth and ANT+ technology easily connect the power meter
to almost any bike computer and smartphone.
Assioma can be used with the cleats supplied or with original Look Kéo cleats,
and it is easily adjustable to any current footwear on the market.
Assioma is a pedal-based power meter compatible with any road bicycle crank-arm.
"A big step forward in pedal-based power and very easy to use, at a currently unbeatable price point."
Click here to read the full review of road.cc

Cicli Corsa offers the best possible price for Favero Assioma Power Meter Pedals.