Description
Ambrosio | Cicli Corsa
Nemesis Tubular Rim | Ambrosio
The Ambrosio Nemesis tubular rims are probably the most famous rims in the Ambrosio catalog. With minor adjustments to its design to match the modern requirements this rim is still the same that was used by many great champions of the past. Its durability, thanks to the Durex hard anodization process, and the reliability are probably the most appreciated characteristics.
Classic 13mm profile and 21 mm width, this rim is a perfect fit for tubulars from 23 to 28 mm. The rim is available with a 32 drilling pattern and double inox eyelets reinforcements for each spoke joint.
Appreciated not just for their classic look and simplicity, but definitely for their performances, Nemesis rims are  largely used to be laced on hi-end hubs to built durable and multi-purpose reliable wheels, often used on gravel, all-year-round training, north classic races on pave, cyclocross and in many other situations.
An example of road, cx and track wheels built with the Nemesis can be found in this website under the section "CC custom wheels"
Technical details
Nemesis Rims Characteristics
Rim Diameter
28"
Weight
430 g
Material
AW 5086 H36
Diameter
633 mm
ERD
611 mm
Drillings
32
Finish
Durex
Jointed Sleeve
Glued
Brake Interface
V-brake
Eyelets
Double
Type of Rim
Tubular
Rim Section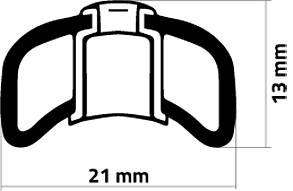 Terms and conditions
All "Ambrosio" products are available in pre-order. Delivery time is confirmed with every order and indicated on each product page. If products require longer delivery times it will be indicated in the order and is based on the information provided to us by Ambrosio.
TERMS AND CONDITIONS
Payments are only accepted in EUR € currency.
Prices displayed will have VAT tax added where applicable. Customers located outside of the European Union are not subject to VAT.
It is possible to pre-order all items in our catalog that are currently out-of-stock. Delivery times automatically displayed on out-of-stock items by our online shop may differ slightly based on the articles selected and the information provided to Ciclicorsa.com at that time by suppliers.
Ciclicorsa.com offers a free return policy within 15 days of receiving the item. All products must be returned in the original packaging and with original labels. Items cannot be worn or used before returning. Any items that are returned without original packaging or labels, or is not in original condition will not be accepted.
Shipping on exchanged items is free of charge.
Every product sold by Ciclicorsa.com is covered by the manufacturer's warranty.
Estimated Delivery Times by Courier
Courier
DHL
UPS Standard
UPS Expedited
DPD - BRT
Poste Italiane - EMS
EUROPE
1-3 DAYS
1-5 DAYS
-
5-7 DAYS
2-5 DAYS
WORLDWIDE
3-5 DAYS
-
3-7 DAYS
-
5-7 DAYS
Shipping times do not include possible delays due to customs. We offer several shipping services available, with different rates and delivery times. During check-out you may select your preferred method of shipment.

Every shipment is fully covered by insurance (free of charge) against lost or damaged items. A tracking number will be provided with each shipment.
Reviews