Description
Il nastro biadesivo Carogna è il miglior prodotto in assoluto per l'incollaggio dei tubolari in termini di facilità, rapidità ed affidabilità, colmando il gap prestazionale tra i precedenti nastri ed il mastice in termini di resistenza alla temperatura e potere adesivo. Cicli Corsa ha scelto di proporre questi Nastri Tubolari per offrire ai nostri clienti prodotti di alta qualità.
In aggiunta, abbiamo curato il funzionamento del nastro Carogna in applicazioni molto particolari quali la mountain-bike ed il ciclocross, con tipologia di sollecitazioni e pressioni di gonfiaggio specifiche. Ricordiamo che il prodotto è di larghezza 16,5mm x 16m
CARATTERISTICHE:
Universale: Carogna è stato testato e progettato per funzionare in modo impeccabile con qualsiasi cerchio (in alluminio, carbonio) e con qualsiasi tubolare (senza cuciture, fatto a mano, vulcanizzato), su strada o fuori-strada (ciclocross, mountain bike).
Proprietà adesive specifiche su cerchio e tubolare: il nastro biadesivo ha su ogni lato una diversa tipologia di incollaggio.
Semi-strutturale e rimovibile sul lato verso il cerchio: l'adesione è garantita da un collante acrilico industriale realizzato in modo da rimanere sempre sul nastro anche sostituendo il tubolare. In questo modo la superficie del cerchio è perfetta ad ogni applicazione successiva. Il collante acrilico ha una fortissima adesione sia su metalli che su carbonio, senza particolare preparazione della superficie.
Permanente sul lato verso il tubolare: è presente uno strato di 1 mm di collante permanente per applicazioni sottomarine. Questo strato ha la capacità di adattarsi alla geometria della base del tubolare una volta messo in pressione, garantendo un contatto ottimale ed un'aderenza eccezionale. L'umidità non è un problema per il collante (mantiene le sue proprietà anche se utilizzato sott'acqua), che fa presa sui diversi materiali con cui vengono realizzati i tubolari (nylon, cotone) e sulle diverse finiture (cotone naturale o ricoperto con neoprene).
Technical Details
Wide temperature range: once adhesion is set, the use at low temperatures (down to -40°C) is not a problem. Thermal resistance of all materials used in the manufacture of Carogna was a high priority: Carogna will provide a perfect bonding at 150°C for extended periods (hours), exceeding the heat-resistance of even the best mastics and widely exceeding the heat-resistance of any other tubular tape.
Optimized adhesive surface: adhesion is very strong and uniform across the whole circumference of the rim for all tubulars and it is also uniform across the tubular base tape. One short-coming of tubular tape to-date has been limited adhesion at the edges of the base tape or in the center of tubulars with a raised center seam. Carogna solves these problems.
Optimal use: the ideal thermal range for application of Carogna is between 21°C and 38°C, allowing 8 hours to reach 80% of the adhesive strength. Applying the tape below 10°C is not recommended. We recommend cleaning surfaces using iso-propylic alcohol.
Rim width: "S" is recommended for traditional/vintage tubular rims (external width up to 20 mm), "SM" for rims with external width between 21 and 24 mm, while "M" is recommended for rims with a width between 25 and 28 mm.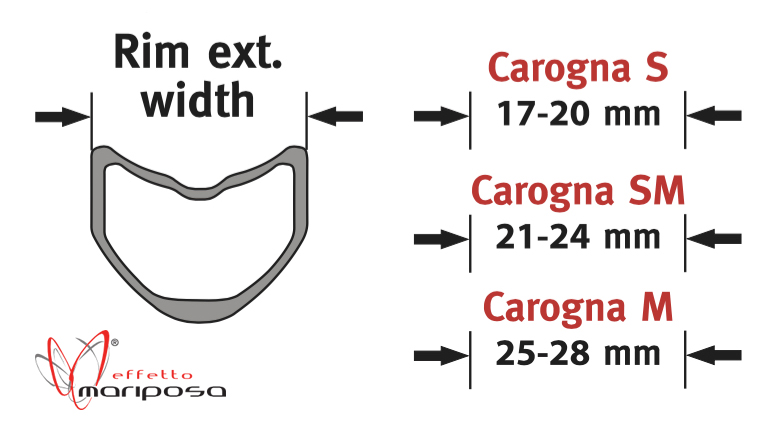 Cyclecross Applications
Does Carogna Tape work for Cyclocross?
In general, Effetto Mariposa has had positive feed-back regarding cyclecross applications of their Carogna Bi-Adhesive tape. However, there can be some occasional problems. The correct gluing procedure is much more important for cx than for normal road use.
Carogna glue is 'pressure-activated', so it bonds very strongly when it's pushed down against the rim by the tubular pressure (for this reason, for road tubulars, we recommend inflating tubulars to their max pressure and allowing some time before riding: adhesion reaches 80% of its maximum strength after 8 hours, the optimal value of 99% after 24 hours).
Avoid Sandpaper on the rim: we know this is common practice when gluing with mastic, but tapes are different. Sandpaper will create small grooves on the rim, reducing the effective bonding surface for the tape. A smooth rim bed offers the maximum surface of contact for Carogna: we recommend removing eventual residual glue completely with Carogna Remover before applying Carogna tape.
Use correct tape for rim size: if Carogna tape is much wider than your rims (for example Carogna "M", 25mm, on a 20mm rim) there is tape on the side that isn't properly glued to the tubular/rim (because the rim didn't extend wide enough and the tape couldn't be "sandwiched" between tubular and rim). That area is a potential entry point for dirt and mud which could get underneath the glued section of Carogna. This process is not immediate, but by the third or fourth weekend of races. It's better to trim the eventual excess with a cutter, before mounting the tubular.
Low pressure requires longer gluing time: as most cx tubulars won't allow a very high maximum pressure, Carogna might require a longer time before optimal adhesion. This depends very much on the finishing/surface of the tubular base tape. In most cases, this is not needed, but we've been reported cases where cyclocross tubulars were not glued after 8 hours. Allow one more day at maximum pressure and your tubulars will be perfectly glued. The quality of the adhesion should be checked by completely deflating the tubular and gently pushing it on the side. If the tubular is still not holding, waiting longer will normally address the issue.
Terms and conditions
All "Effetto Mariposa" products are generally in stock with orders completed within 1-2 business days. If products require longer delivery times it will be indicated in the order and is based on the information provided to us by Effetto Mariposa.
TERMS AND CONDITIONS
Payments are only accepted in EUR € currency.
Prices displayed will have VAT tax added where applicable. Customers located outside of the European Union are not subject to VAT.
It is possible to pre-order all items in our catalog that are currently out-of-stock. Delivery times automatically displayed on out-of-stock items by our online shop may differ slightly based on the articles selected and the information provided to Ciclicorsa.com at that time by suppliers.
Ciclicorsa.com offers a free return policy within 15 days of receiving the item. All products must be returned in the original packaging and with original labels. Items cannot be worn or used before returning. Any items that are returned without original packaging or labels, or is not in original condition will not be accepted.
Shipping on exchanged items is free of charge.
Every product sold by Ciclicorsa.com is covered by the manufacturer's warranty.
Estimated Delivery Times by Courier
Courier
DHL
UPS Standard
UPS Expedited
DPD - BRT
Poste Italiane - EMS
EUROPE
1-3 DAYS
1-5 DAYS
-
5-7 DAYS
2-5 DAYS
WORLDWIDE
3-5 DAYS
-
3-7 DAYS
-
5-7 DAYS
Shipping times do not include possible delays due to customs. We offer several shipping services available, with different rates and delivery times. During check-out you may select your preferred method of shipment.

Every shipment is fully covered by insurance (free of charge) against lost or damaged items. A tracking number will be provided with each shipment.
Reviews