Description
Cinelli XCr | Cicli Corsa
The Cinelli XCR frame – welded from a custom drawn Columbus XCR tubeset – has been designed very simply to offer riders the purest and most direct experience of the cutting edge of steel cycling technology.
Released by Columbus in 2007, the XCR stainless steel tubeset represents the most important step forward in performance steel bicycle technology of the last 25 years. XCR was the world's first – and still today is the world's only – cold drawn seamless stainless steel tubeset. It is made from a martensitic stainless alloy whose superior mechanical characteristics (in particular its Ultimate Tensile Strength and End Strength) allow for sub 1,5 kg frame weights and superior weight/stiffness ratios than either aluminum or titanium. Additionally the structure of the XCR's martensitic steel is able to absorb vibrations noticeably more rapidly and uniformly than any austenitic steel, resulting in subtle but uniquely "zingy" ride quality.
In order to exalt this technology, Cinelli's XCR frame features the classic Cinelli Italian stage racing geometry, an oversized 44mm headtube, proprietary winged-C dropouts, a CNC'd Titanium headbadge featuring the original Cinelli heraldic logo, and all its tubes are hand-polished to a mirror finish, emphasizing the stainless steel construction.
WEIGHT
Frame | 1560g
Fork | 350g
MAX TYRE
28mm
Geometry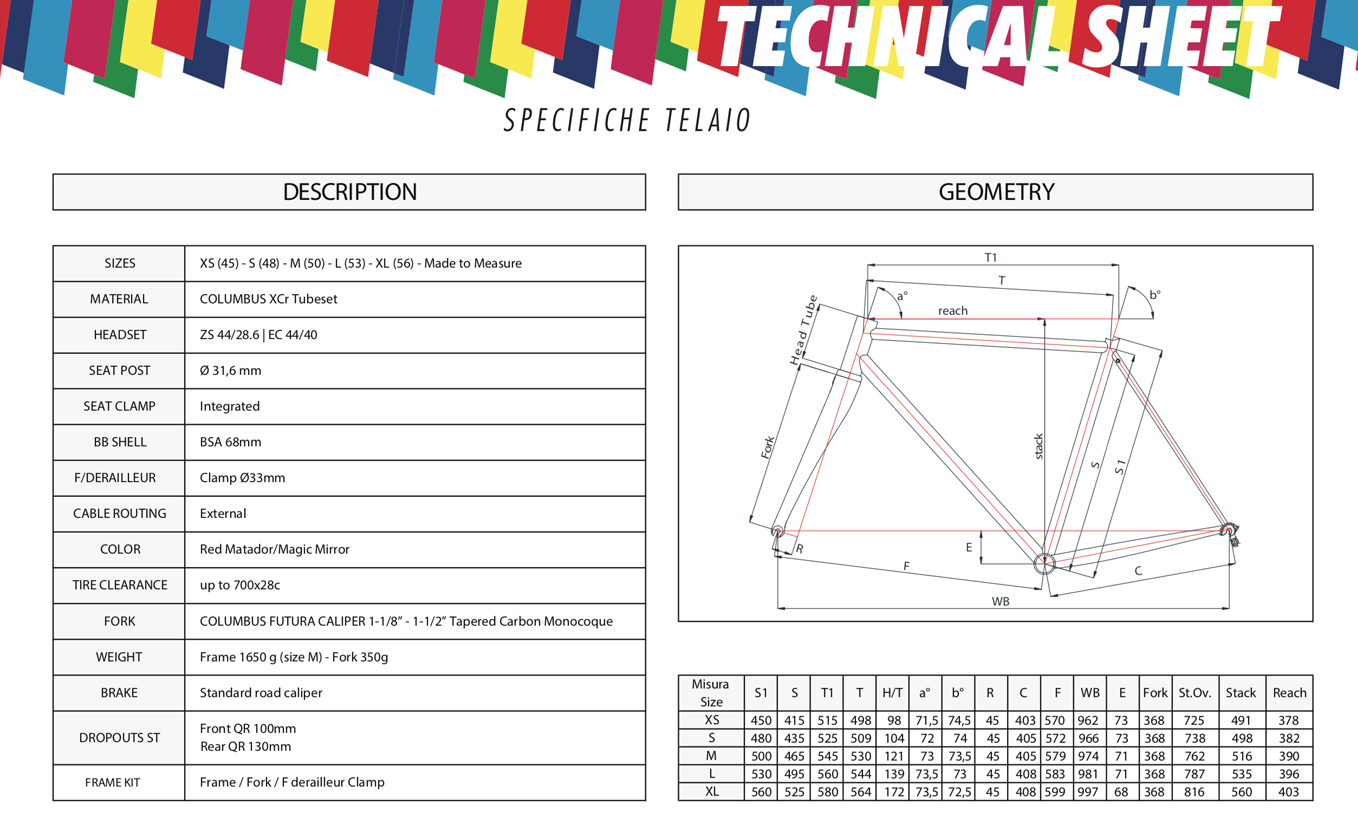 Technical Details
Terms and conditions
TERMS & CONDITIONS
Prices displayed will have VAT tax added where applicable. Customers located outside of the European Union are not subject to VAT.
Some frames may have variable delivery times. The exclusivity of these products means that their construction or finishing is done according to customer requirements and specifications following an order confirmation. In order to complete an order you do not have to pay the full cost, but it is sufficient to pay a deposit, usually equivalent to 30% of the full price. The 70% balance will be due only when the item is ready to be shipped.

Please note delivery times displayed automatically by the system may differ and we advise contacting us by email or phone in order to find out accurate information on availability.
Ciclicorsa.com is the official retailer of all brands on this website. Ciclicorsa.com maintains a privileged and direct relationship with the distributed brands without any third party involvement. This provides first-class service for our customers and extends to a complete after-sales service including warranty. Please contact us for any questions regarding the purchase of this product.

Estimated Delivery Times by Courier
Courier
DHL
UPS Standard
UPS Expedited
DPD - BRT
Poste Italiane - EMS
EUROPE
1-3 DAYS
1-5 DAYS
-
5-7 DAYS
2-5 DAYS
WORLDWIDE
3-5 DAYS
-
3-7 DAYS
-
5-7 DAYS
Shipping times do not include possible delays due to customs. We offer several shipping services available, with different rates and delivery times. During check-out you may select your preferred method of shipment.

Every shipment is fully covered by insurance (free of charge) against lost or damaged items. A tracking number will be provided with each shipment.
Reviews